Okay so I missed a month…that's the way it goes sometimes. It's just not that easy to get us all together.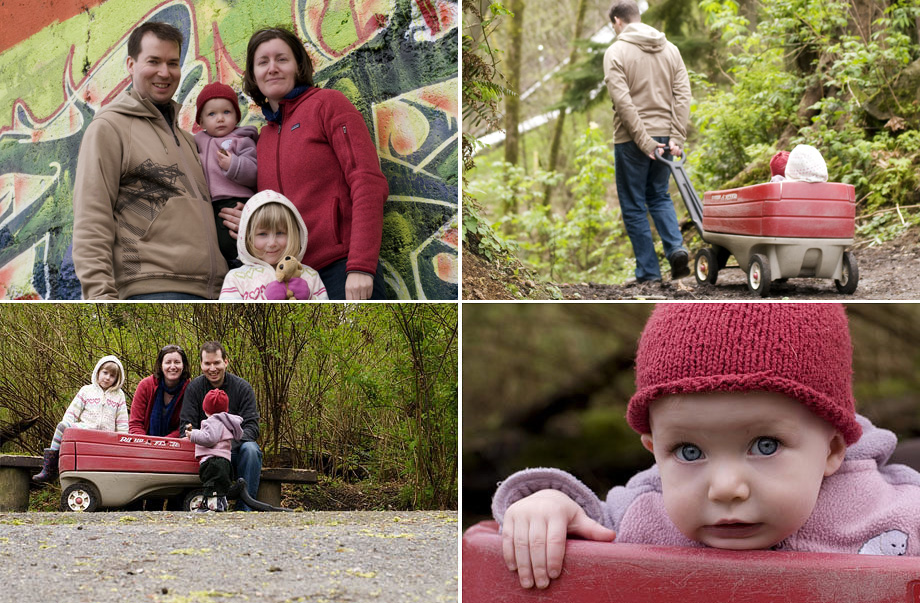 These images were taken down at the "Inlet." For those that are local we are of course referring to Burrard Inlet and our little bit of forest, trail, and beach. We visit this spot often as a family. Even if I missed a month I'm glad I did start this project because it gave me the necessary push to photograph us doing what we do and going to the places we go.
I love the colours in the mural behind us. I love the green of the forest in Spring. I love that we are pretty much wearing the same thing we were wearing in our last family shot. That's just how it is. Most of all I love that we have these images.
Corinne is a climber and a runner. It's funny how different two children can be and yet be so similar as well. She tries to climb everything and very often succeeds. If we are out somewhere I have to keep a very close eye on her as she likes to wonder off…aka run away. She seems more physical than verbal even though she has no problem getting her point across.
Erin has been on Spring/Easter break from school. The girls and I have spent a few afternoons at out Community Garden plot adding soil and planting. We have been thinking about what we want to plant and where. We are all looking forward to fresh veggies that we have grown ourselves. Combined with our CSA share from the Farmers on 57th we should have plenty of fresh fruit and veggies this year.
Erin wants a puppy or a kitten or a bird…or perhaps all three. She has been bringing her dolls or an stuffed animal with us always. She says she is practicing for when she can have a new pet of her very own. She does take very good care of them.
Kevin has been traveling up to Kamloops a fair bit for work. Hence the struggle to get us all together for a family shot.
I chopped my hair. I donated it to charity. I feel so light. I love it. I'm looking forward to Summer weather (less need to reschedule photo shoots) and planning camping adventures and other vacations. Does anyone have recommendations for great family friendly campsites around Vancouver?