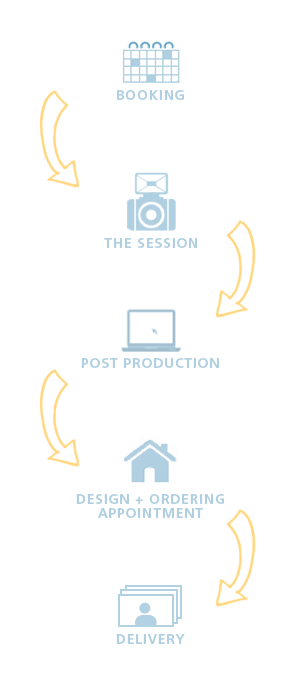 From the time you book your session until your digital files and boutique products are received, I work to deliver a seamless client experience.
BOOKING | After you book your session we will set up a pre-session phone consultation to take place approximately 1-2 weeks before your session. We will discuss your ideas for the session go over any questions you may have, as well as what to expect, what to wear etc.
THE SESSION | Portrait sessions are relaxed on-location get-togethers where we laugh, have fun and most importantly – capture your family in an authentic and relaxed way. Your home makes an amazing setting for lifestyle portrait photography as does the great outdoors. I pride myself on capturing unique personalities through my lens as well as the in between moments and littlest details. Natural smiles, the way you snuggle in so tight, the tiny delicate details of your newborn baby, your gentle gaze at your little one's face – that's what I want to capture for you. So you can remember those details forever!
POST PRODUCTION | Once the session is complete, my creative process continues as I hand pick each of the final images for your gallery. After narrowing it down to the very best 30 – 40 images, I retouch and edit each individually, finding colour in the most unexpected places and turning your photographs into unique pieces of art. The editing process takes approximately two weeks.
DESIGN + ORDER APPOINTMENT | We had a great time at your photo session and created a gallery full of beautiful images. Now what? Now it is time to select the prints, boutique products + digital files that are right for you. Payment is due at the time of the order and payment plans are available upon request.
DELIVERY | Quality takes time! Your order will be delivered to you 2 – 4 weeks after payment has been received and all design work has been completed. Boutique items such as gallery wrapped canvases and session albums may take slightly longer.
If that sounds like the kind of portrait process you envisioned then contact me and I will send you more info on what I can create for you!